Creating Social Moments That Last...
Belle Social manages social media campaigns that focus on driving traffic to websites, engagement, following, and increasing revenue. Campaigns are a great way to amplify an event or time-sensitive initiative. Campaigns are game changing because there is a start to finish plan before we kick off. Need help getting started? Let Belle Social brainstorm campaign ideas with you!
Overview: The Coach 1K social campaign came ahead of Coach K's 1,000th winning making him the winningest NCAA DI Men's Basketball Head Coach.
We created social graphics, videos, and a digital sign for fans to sign to say congratulations.
Results:
Garnered over 80 million impressions

Increased social following by 15% across platforms

Led the Atlantic Coast Conference in social media engagement
Campaign was led by Vykky who was an employee of the university.
Overview: From March 17th - April 6th, 2015, Duke University's men's basketball team competed in the NCAA tournament and won the 2015 national title over the University of Wisconsin-Madison.
Results:
Set a department record of 325 million impressions, nearly 100 million more impressions than the previous tournament in its entirety

Set a department record by driving traffic to the department's website

Increased engagement by 82% on game day across social media platforms

Worked with the Empire State Building social team to coordinate lighting and content, that generated additional social conversation
Campaign was led by Vykky who was an employee of the university.
Blackout The Duck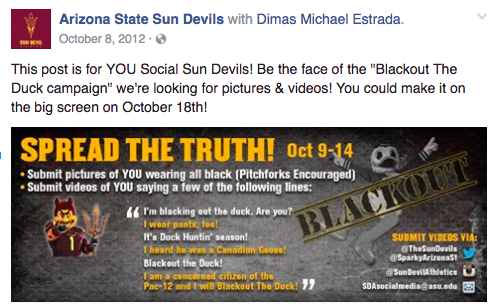 Overview: During the 2012 presidential elections the Oregon Ducks launched a mock campaign for their mascot, Puddles The Duck, to run for president. With an upcoming home contest against Oregon, the Sun Devil Athletics marketing director saw this as a great opportunity to drive ticket sales. Belle Social founder/owner, Vykky, also saw an opportunity to drive social engagement and revenue. Together, they created a series of "smear ad" videos, a customized website, and other social content questioning Puddles' credibility as a candidate. Oregon also got involved with response videos.
Results:
Set a season record for attendance, 71,000+, with home game attendance averaging around 56,835 for the season

Earned over 100,000 views on YouTube over the entire campaign (4 installments of videos)

The campaign was picked up and feature by news outlets, including ESPN SportsCenter

Increased following by 23% across social media platforms during the campaign's flight dates
Campaign was led by Vykky who was an employee of the university.
Love The Fork
Overview: An exclusive social media campaign that rewarded fans for following Arizona State Sun Devils social media accounts. Free items and discounts by sponsors were offered, as well as special offers on game tickets for a variety of sports.
Results:
Increased traffic to apparel website

Drove additional game ticket sales

Increased following across social media platforms
Campaign was led by Vykky who was an employee of the university.